Last year, I had the odd idea that I should give up wearing make-up for Lent. But Lent was starting in just a few days, and the thought of not wearing make-up to certain places felt daunting . . . so I put the idea on hold. I try to say "yes" to all of the Lord's promptings, but He knew I needed more time to process this idea. This was one of those thoughts God planted for me to ponder . . . until I felt His grace to move forward. So I told my Abba I was listening and gave Him my "yes" for the following year. And now here I am a year later . . . make-up free for 46 days.
Some of you may be thinking, "What's the big deal?" But we are talking about breaking a 20-year habit of putting on make-up . . . even if I was just going the grocery store or picking my son up from school. You know that 10-minute clean up you do right before company shows up at the house? I did a similar quick fix with my face and hair before leaving the house. I mean, what if I ran into someone I knew and they looked good, but I didn't? I love living in Mt. Pleasant, but I have heard some refer to it as Mt. Perfect or Mt. Plastic. There are so many beautiful well-put-together people roaming around my city (who look amazing in their yoga pants and messy buns). Naturally I would want to fit in – that is normal, right?
Lent is meant to be a time for detoxing from unhealthy mindsets and habits so we can re-center on the Lord. For me, it's a time to address things that have gotten out of balance in my life, things that have slowly gotten a "hold" of me. I have not always done this perfectly, but God's grace is there to empower me for the task. I have found that when I choose to deny my flesh during Lent, and pursue God instead, He often uproots the strongholds that have hindered the fullness of His presence in my life. In the past I have given up things like sugar, television, or Facebook, and I always found the period of self-denial to be life giving . . . but I never considered detoxing from make-up! But the mere fact that it was difficult for me to agree to this idea shows it had a hold on me. I have always felt prettier with make-up on, but I did not realize how much of my identity I had attached to my appearance.
I am now starting to question anything in my life that feels too hard to give up.
As I sat with God and asked Him to examine my heart (Psalm 139:23-24), I became aware of a faint insecurity that had been lingering unchecked. The truth is, when I was around others who looked more beautiful on the outside, I felt "less than." It was a subtle feeling, but present nonetheless. I had chosen to believe the lie that my value was at least partially connected to my appearance. There is nothing wrong with wearing make-up, but if I feel "less-than" when I don't, then I need to question whether I have made it an idol.
The first week without make-up was the hardest - I had never gone to work or church without it on. I did not feel pretty, so you can bet I made an extra attempt at fixing my hair and wearing cute clothes (maybe that will be Lent next year). I felt self-conscious. Many times throughout the day I would wonder what others were thinking about me – surely they must be wondering why I suddenly looked so unattractive.
Was I overreacting? Maybe, but one beautiful co-worker did ask me if I was feeling okay. I hadn't slept much the night before so I told her I was tired, and oh yeah, "I'm just not wearing any make-up."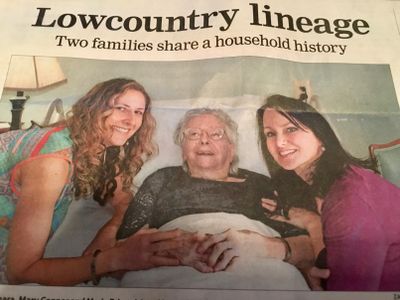 During the first few weeks of Lent, I was scheduled to meet up with a local newspaper journalist because he was doing an article on my grandmother who turned 100. That morning I woke up with a huge zit on my chin, which would have been easy to cover with make-up . . . but of course this was not an option. Since the article was about my grandmother and not me, I figured I could simply divert the journalist's attention to my grandmother (should he request any pictures with me too). But deep inside I knew that would be a cop out – the whole point of giving up make-up was to learn the lessons God desired to teach me. Want to guess what happened? Yep . . . the picture ended up on the front page. I know you can't see the zit . . . but seriously, front page with no make-up!? Okay God – I know that was not an accident. God was clearly using my circumstances to help sever any unhealthy attachment I had to my appearance.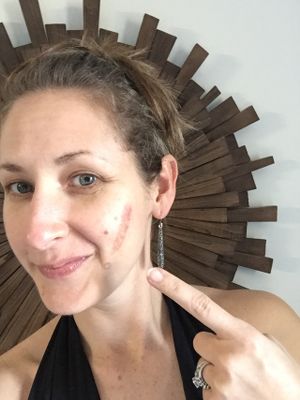 I later realized Lent was during my anniversary, and also during the women's retreat at my church. I panicked slightly inside, but then took a deep breath and decided to face it make-up-free, without any shame. I dressed up and went out bare-faced to a fancy restaurant with Bob . . . but since no one knew me there, it was not that hard. However, spending three days at a retreat with a bunch of people from my church was different. As I was getting ready to go, and curling my hair so it would look especially good, I burned my face . . . and it was no inconspicuous burn! The shape of the burn was even in an exclamation point, as if to say, "look at me!" After the initial horror of this huge mark on my face, I just started laughing. I had a feeling this face blunder was also orchestrated for "my good." So I had a choice to make – either allow this mark to make me feel self-conscious, or suck it up and face the weekend with joyful expectancy. I engaged my will and chose the latter. And you know what, by the end of the weekend, the security I previously felt in wearing make-up had completely disappeared. It no longer had a hold on me.
Culture defines so many of our standards and ideals, but this Lent experience has forced me to re-evaluate the definition of true beauty. In reality, the litmus test should be God's Word, not my peers or the media. So what does Scripture say about beauty?
"Your beauty should not come from outward adornment, such as elaborate hairstyles and the wearing of gold jewelry or fine clothes. Rather, it should be of a gentle and quiet spirit, which is of great worth in God's sight" (1 Peter 3:3-4).

"Charm is deceptive, and beauty is fleeting; but a woman who fears the Lord is to be praised" (Proverbs 31:30).

"The Lord does not look at the things man looks at. Man looks at the outward appearance, but the Lord looks at the heart" (1 Samuel 16:7).
God's Word teaches us that beauty is found in the fruits of the Spirit: love, joy, peace, patience, kindness, goodness, faithfulness, gentleness, and self-control. It is found in a 1 Corinthians 13 love, one that keeps no record of wrongs and does not insist on its own way. It is found in doing good works (1 Timothy 2:9-10), and it is found in sharing the good news of Christ (Romans 10:15). True beauty is . . .
The mentally challenged teenager who sings loudly at my church; though his off-tune groans drown out those around him – his unhindered worship is more beautiful than the most professionally trained voices.
My illiterate, overweight patient who dresses up like Santa and joyfully brings me Christmas gifts each year to say thank you (even though he does not have much money).
My mom, who after being treated poorly by a storeowner, decided she would respond in love instead of complaining . . . so she brought him some homemade banana bread.
The janitor at my husband's work who insisted on taking all of the leftover Angel Tree kids because he could not bear the thought of some children not getting a gift.
The doctor I work for, who shut down the whole office (and forfeited the profits of the afternoon), so the staff could attend my dad's funeral.
My dear friends, who are spending their retirement fostering babies (even premature, drug-addicted ones), loving them and praying for them as if they were their own.
I could go on and on. But clearly true beauty has nothing to do with whether someone is wearing make up. It is about living and serving from the heart, while staying connected to God's love.
Did you know that even Jesus was not attractive? He had "no form or beauty that we should desire" (Isaiah 53:2-3). But He radiated with every fruit of the Spirit, so people were drawn to Him. As John Piper says, "The beauty of Christ is the beauty of love, not looks. It's the beauty of sacrifice, not skin."
Like Jesus, we too exude what is in our heart. So do people leave us feeling uplifted or downbeat? Do we radiate with joy or with negativity? Though we may initially be drawn to someone's appearance, it is one's countenance that ultimately leaves a lasting impression.
During my Lent experience, I found that each time I chose not to give in to the ways of the world, I felt the power of those lies die a little more. Now when I see digitally edited magazine covers, or ads enticing me to laser, freeze, inject, or surgically alter my appearance . . . I question the truth of their message.
So is it a sin to wear make-up? I guess that depends on if it has become an idol, a means for satisfying a place within us that is meant for God to fill. Will I wear make-up again? Absolutely, but I am more aware now of the lies hiding in its' use . . . and I refuse to place my security or happiness in it.
My prayer is that what matters to God will become what matters most to us too. May we recognize the true beauty within ourselves, and live from this place of value . . . not one in comparison to others.
Remember, you are fearfully and wonderfully made . . . in His image (Psalm 139:14, Genesis 1:27). How can that not be beautiful?
FURTHER READING:
"Authentic Beauty: The Shaping of a Set-Apart Young Woman" by Leslie Ludy (especially good for young single women)